Virtual Career Fairs aren't the most straightforward thing in the world. They lack the in-person interaction of physical fairs, can be tricky to coordinate, and confusing to employers.
So what's the point of Virtual Career Fairs anyway? In this article, we provide some major points addressing this specific question.
In this article, we assume you know what a Virtual Career Fair is. If not, feel free to catch up with this article on "What Exactly is a Virtual Career Fair"
For When a Physical Fair is not Possible
Probably the most straightforward reasons to host a virtual career fair is for when a physical fair is not possible.
Virtual career fairs enable you to continue with your event virtually, instead of cancelling critical networking opportunities for thousands of students.
For When Cost is a Priority
A lesser known reason to continue with a virtual fair over a physical one is related to cost.
Virtual career fairs are typically much cheaper than physical fairs, as you can forego venue fees, catering fees, lodging reimbursements.
Your one major fee with a virtual career fair will be the virtual platform provider, which will always be less than the combined costs of a physical fair.
For some typical numbers, an average virtual career fair will cost around $8,000. This number can be higher if you have several customizations and lower if you negotiate a bulk deal.
For when Time and Hassle are Concerns
Physical fairs are large, impressive operations. Renting out a venue is expensive, but that's not all. You need to prepare the venue and set up processes for all sorts of things.
There will need to be student volunteers for managing check-in, there will need to be support for employers navigating the venue, there will need to be stickers printed for indicating student major/year, and a whole lot more miscellaneous tasks.
Virtual fairs are typically much less hassle. A competent virtual platform provider will remove much of the overhead work for event coordinators with clean, refined processes.
For example, the Eventus.io Virtual Fair Platform requires you only to provide a list of email addresses for your employers. After that, the platform will carefully walk them through the rest of the process.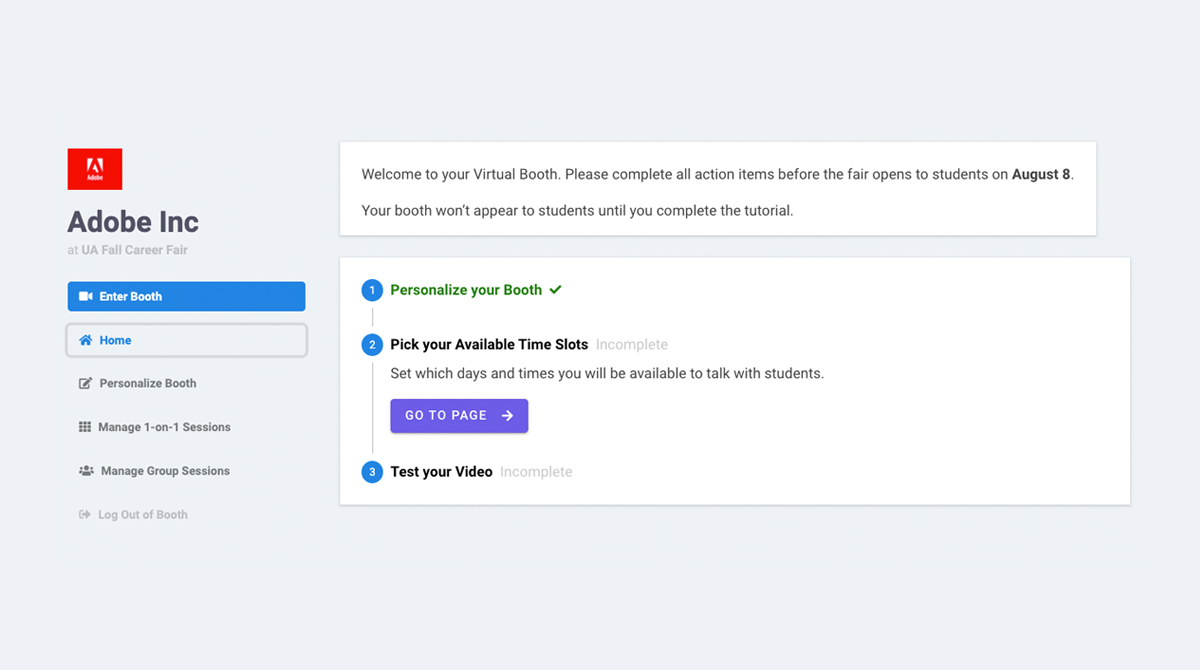 Sure, there are occasional support requests, but they are typically minimal and most employers can get through the setup process without any help.
Virtual Fairs are Easier for Employers, and Increase Attendance
Employers have it rough. Travel and Lodging are expensive enough, but often they are also transporting large items like banner stands. These cost several thousand dollars to ship, are a hassle to send through couriers, and are heavy enough to check-in and pick up.
The point is, for many employers, going to these fairs is a bit different than a pleasure trip to the airport.
Virtual Career Fairs can be a great way to mitigate this issue, especially if your event involves a lot of smaller businesses that might not be able to afford the time and hassle of physical fair.
If your virtual fair provider can facilitate these employers getting a set of resumes and quality conversations with students, it could make more practical sense for many employers to attend over an alternative physical fair.
Virtual Fairs can Provide Unique Benefits
Finally, you might consider a virtual fair due to the unique benefits they provide. The fact that the fair is virtual enables a couple of unique things:
Analytics can be tracked granularly. You can see hard numbers on which companies are viewed the most, which students participate the most, how many students actually tuned in, etc.
Virtual Fairs can be branded more severely. As everything is digital, you can put your logo wherever you like. You can select fonts, colors, and other thematic elements of your environment.
Virtual Fairs can have more flexible time ranges. Your event can be a week long, for example, as you don't need to be concerned about employer lodging costs.
Virtual Fairs can have higher capacity and end up being larger-scale events, as they are more accessible to employers and students alike, and costs don't scale as prohibitively.
The Future of Career Fairs
All that said, virtual career fairs don't do one thing. And that's enable actual, real-life face-to-face connections between your employers and students. There's definitely something to be said about that.
At Eventus.io, we envision a future where most universities hold flagship career fairs in the fall that are physical, and satellite events at other times during the year that are virtual.
This seems like an approach that balances the timelessness of physical fairs with the convenience of virtual fairs.
It would enable employers and students of all types to get the networking experience(s) they need, and be easiest to manage for university centers.
That's just what we think though. If you have any questions or comments, please reach out to us at [email protected].
We are a Hybrid Events Provider who can help work with you to set up virtual or physical events. If you are interested in a 50/50 set-up we think you should especially at least reach out.